Multifunction Copiers
Multifunction Copiers are the workhorse of the modern office. And as much as they are great at making copies, they can do so much more. Your busy office can stay a step ahead with this all-in-one device by being able to print, scan, and fax all from one central location. But even more than that, we can tell you more about how it can be customised and integrated into your business workflows.
Affordable Colour Output
Though many offices print most of their documents in black and white, there are advantages to having the ability to print in colour when needed. With new colour-enabled Multifunction Copiers, like the Konica Minolta biz hub, you can print high-resolution documents in full, beautiful colour. And you may be surprised that colour printing has never been more affordable. Utilize the colour controls to let you decide who can access colour output.
Make printing even easier and more efficient when you connect a Multifunction Copier to your network. Network printing allows employees to print directly to the device, making their job easier while continuing to stay productive. You can also use the scan-to-file function to scan documents to network folders and to your Document Management system. Scan-to-email makes it simple to send a document as an email attachment.
Add that final touch with the finishing option on a Multifunction Copier. You will have the ability to staple documents, hole punch, and even put together professional looking booklets, all while saving time and resources. We will be excited to tell you more about these options, and how you can make the most of your device.
Customisation And Integration
Integrate document scanning and printing with your business processes. We can customise the control panels on your multifunction copier to automatically direct documents to the right place and streamline your workflows.
Guide To Multifunction Copiers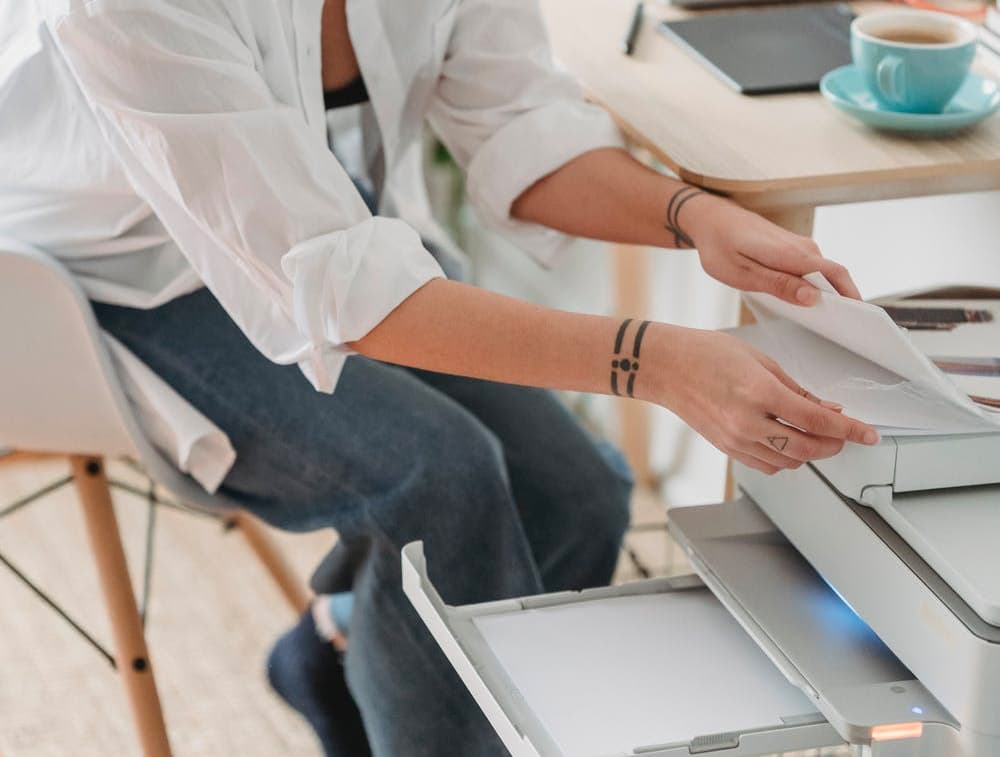 Printer
Most owners of MFPs use the print function more than anything else. Your first step in researching MFPs should be to consider the following printer features.
Speed is one of the key features to look for in a printer. 20 pages per minute (and 10 colour pages per minute) is the minimum speed to look for.
Quality helps ensure your prints come out as clear as you need them to. The minimum resolution to look for is 600 x 600 dots per inch for black and white, and 1200 x 1200 for colour.
The Duty Cycle lets you know the maximum number of printers you should print per month. For office printers, look for a high duty cycle, 20,000 plus pages.
Scanner
If you intend to employ the scanner function of your MFP, take some time to research the following scanner features.
The resolution, like printer quality, will help ensure your scans are readable. Look for a minimum resolution of 1200×600 for high-quality scans.
Look for OCR Software (optical character recognition) if you intend to scan to documents that can be edited, such as Microsoft Word.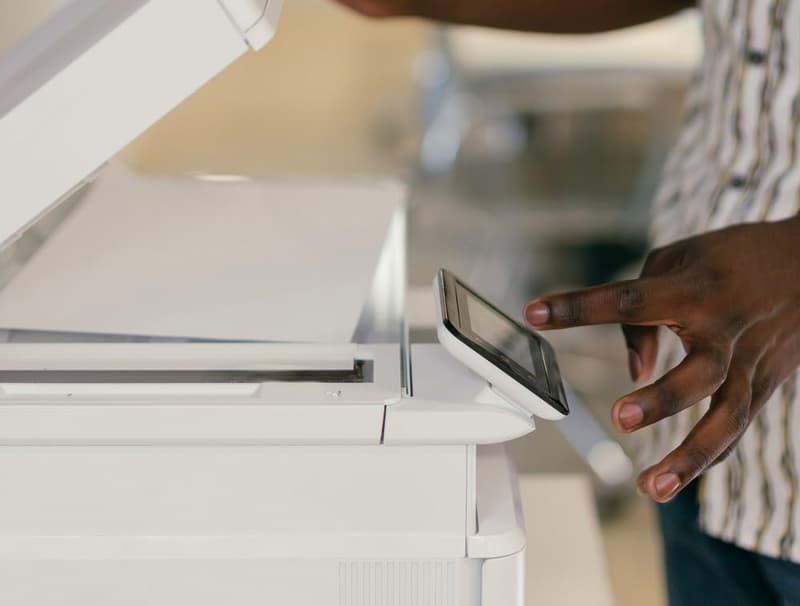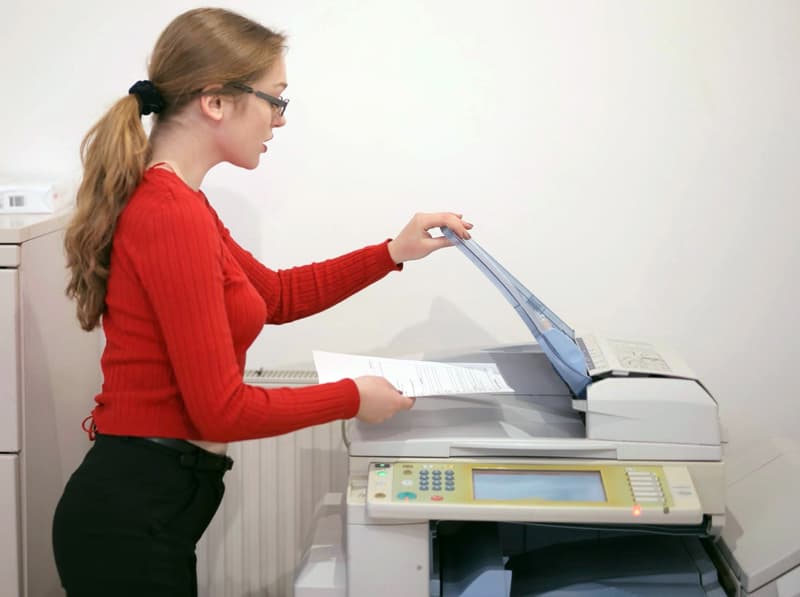 Copier
Copy features are mostly extensions of the printer and/or scanner capabilities. However, there are a few features that you can consider for the copier function
Speed can make a big difference if you are waiting for a few copies to be made and you are in a hurry. A good standard for copier speed is 25 pages per minute.
Document resizing can be important to some users. 25 to 400 per cent is a common spec to look for.
Additional Features
Though faxing isn't quite as common these days, if you intend to fax frequently, look at the feeder, the fax page memory, and the fax speed. Additional features include connectivity and memory card compatibility.
Benefits Of Multifunction Copiers
Save money with low operation costs Improve your professional image with colour output
Maximise productivity by integrating scanning into your workflows to save space
Reduce power usage by combining copy, print, and fax devices into one unit
What To Look For In A Multifunction Copier
when shopping for a new printer, you should keep certain features and needs in mind to guarantee that your new purchase will take care of your projects and be with you for a long time. Here are five things to look for in your next printer purchase.
Pages per Minute (or PPM)
Some people say that if you want to know what a person is really like, then you should make them use the slow internet. That may be true, but a slow printer can have a similar effect. Everyone has a story of printer frustration, and one of the key things you can do to mitigate that is by shopping for a printer that prints fast enough for your projects. Consider your printing needs and get a device that can quickly take care of those needs.
Functions
Multifunction printers, obviously, have more than one function. By shopping for the specific functions that you need you can find savings instead of paying for functions that you don't need.
Connectivity
Your connection circumstances can determine your printer needs as well. Depending on the location where your printer will live you may need a standard printer cable or need a wireless connection to facilitate your printing. However, only some printers can print wirelessly, or do it well, so shopping for the right printer for your connection situation is critical.
Price Per Print
Every printer has a cost to print associated with it. Most printers will list a price per copy on the product description, but be sure to verify that number. You can price the toner yourself and find reviews on actual toner yield which should give you the real cost of each page printed.
Mobile Printing
Mobile printing may not have been a concern in years past, but anymore your staff may use mobile devices as a greater component of their workload. Talk to your team and determine if mobile printing is a priority for your new printer.
To learn more about our multifunction copiers, contact us now to request a demonstration of the latest systems.
Talk to the Best Office Systems to explore the newest office furniture along with financing options
Albany Office
Shop 6/20 Campbell Rd
Albany WA 6330
Ph. (08) 9842 1333
Narrogin Office
51 Federal Street
Narrogin WA 6312
Ph. (08) 9881 4685